About Iceland Backcountry Travel
Travel and hike the spectacular roads and mountains of North Western Iceland, known as the Western Fjords.  Adventure off the beaten path along the high and narrow winding roads in the comfort of your own Super Jeep, driven by native Icelander and certified guide, Gudmundur Valdimarsson.
Enjoy traditional fare and decadent desserts made by local restaurants and bakeries.
Hike to the top of Kaldbakur (998 meters/3,274 feet), the highest mountain top in the Western Fjords.  View unique and breathtaking  vistas, landscapes, and  waterfalls. Discover sea life, birds and animals in their natural habitats. Experience the summer midnight sun or the exhilarating northern lights in the winter.
Relax in the year round simplicity of the calming natural hot springs.
For an unforgettable and inspiring experience, join us on one of our many private tours and hikes.  Or contact us and create your own customized Icelandic adventure today!
About the tour operator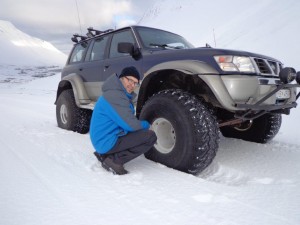 Gudmundur Valdimarsson was born in 1963 in Isafjordur and has lived there most of his life. He has always had a deep love of the outdoors and goes backpacking with his wife and kids every summer to Hornstrandir Nature Reserve.
Chairman of the local Shooting Club, he possesses a passion for hunting. Over the past 30 years Gudmundur has become an expert at extreme driving, hiking, and hunting all over Iceland including the Western Fjords. His knowledge of the local wildlife comes in handy when organizing wildlife photo safaris.
He studied Marine Mechanics in Reykjavik and graduated in 1995. He worked as an Engineers Officer on various boats and trawlers for 20 years and has been a CNC machine operator and production manager for 3X technology in Isafjordur for the past 8 years.
He studied tourist guiding at the Westfjords Educational Center and graduated with a Guiding Diploma in 2011.
He is certified in both First Aid and CPR and is fluent in English.
He is also a licensed firearms instructor and an award winning marksman.
In 2013, he founded Iceland Backcountry Travel with his wife Audur Helga on her 50th birthday. With support from his loving wife, Gudmundur can't go wrong. ;o)